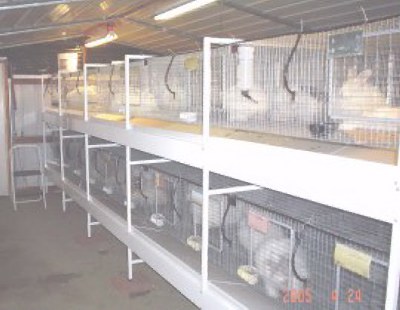 Visitors Welcome

Dear Friends: For those of you who knew her, I am sad to report that Georgene fought her final battle with cancer and died peacefully on Friday, October 4 at age 86. Per Georgene's wishes, no service will be held, but for those of you who are interested, visitation will be as follows:

Tuesday, October 8th, 2013 from 4-8 pm

Greenwood Memorial Park

4300 Imperial Ave.

San Diego, CA 91977

The obituary should appear in the San Diego Union-Tribune on Tuesday as well. Per Georgene's wishes, please feel free to make a donation to your favorite charity in lieu of flowers.

Respectfully,

Georgene's Family

Revised

October 07, 2013

Georgene Kiblinger

Spunfurfun@Yahoo.com (or)

Welcome to the

"Angora Affaire"

web pages.

Breeder of

German, and Giant Angora rabbits

and

Angora roving

Check our web site for:


Angora rabbits from Grand Champion lines.


Adorable, gentle pets.


Carded Angora Roving by the Pound


Angora Yarn by the pound


Hand spun, knits from Angora wool.